A friend of mine has been my Stampin' Up Demonstrator for years but has come to a time in her life where she is too busy to do it all so she decided to no longer demonstrate for Stampin' Up. It was a difficult decision but she feels it is time for her to just enjoy being the customer again. My friend remembered me expressing the intrest of becoming a Stampin' Up demonstrator a few years ago so she called and asked me if I would consider becoming a demonstrator so she could pass her customers on to someone she knows and trusts. I thought and thought about it then finally decided why not give it a try! You may notice my blog has been getting an over haul and changes will continue over the next few weeks as I get everything situated for this new adventure in my life. Keep checking back for updates and I plan on giving away some goodies as soon as my demonstrator package arrives. I'm eager to get started!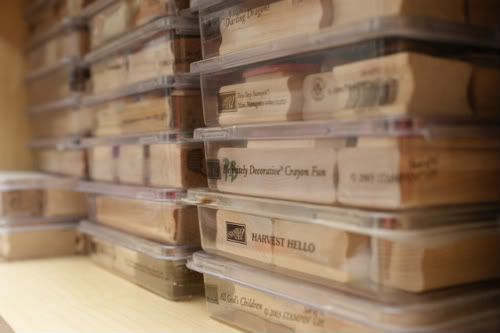 What is the Scrappy Side?
I have always enjoyed Stampin' Up products. Over the years I have collected more than my fair share of stamps, paper, and other goodies from Stampin' Up. I love Stampin' Up products but, honestly, it is difficult to find much inspiration on using these products for scrapbooking. Most of the examples in the catalogs are 8x8 pages, which look great, but aren't easy to convert to a full 12x12 layout. I've searched and searched online but haven't found much more in the category of scrapbooking with Stampin' Up. As an avid scrapbooker, I hope to share with you creative ways to use your Stampin' Up products on your scrapbook pages (altered projects and cards, too.) Over the next few months I plan to go completely Stampin' Up with my scrapbook products. (Ok, maybe with a few non-Stampin' Up embellies here and there, at least until I use what I've collected.) The main reason I decided to start buying only Stampin' Up is I think it will save me money in the long run. I seriously have an addiction to buying scrapbook products. I think if I limit myself to only purchasing Stampin' Up I can control that addiction a little better. I will be less tempted to go into all of my local scrapbook stores and splurge. I just recently went through all of my supplies and was disappointed in myself. I had tons of supplies that I bought over the years and never use and, being honest with myself, probably never will. I packed most of it up and gave it to my oldest girls to use. I still want to keep my style of scrapbooking (see "From my Gallery" slide show at the top right to check out my style) but be able to use mainly Stampin' Up (plus my Cricut, of course, I love my Cricut.) As I went through the new catalog I was so excited as ideas flooded my mind on ways to use these wonderful products. With all the paper, chipboard, rub-ons, and, of course, all the great stamps, there are endless possibilities that I never really considered before. I'm thrilled to get started and to share my ideas and creations with you. I will be sharing tutorials, original sketches for scrapbook pages and cards, holding challenges, having the occasional goodies giveaway, and more. Whether your 100% Stampin' Up or if you incorporate Stampin' Up products along with other supplies, I hope you will come back regularly to see what I'm up to here on the Scrappy Side.