We made cute mini albums at the stamp club meeting this month.
I made these by cutting up old cereal boxes, mac and cheese boxes, granola bar boxes, pretty much any box I got my hands on. Then I ran them through the Big Shot using the Top Note die. I choose some paper and cut those using the Top Note die and adhered them to the chipboard base.
We also recycled spiral wire from old spiral notebooks. We punched holes using the Cropodile and threaded the wire through.
My daughter said I was "going green" because I was reusing so many things but really I just like saving green. :)
I titled my mini album "Random Cuteness" and filled it with random photos of my kids.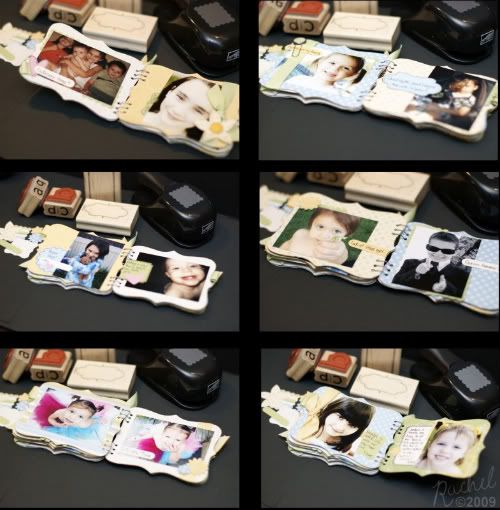 Notice the square scallop punch in the pictures? I used it! I cut the squares diagonally and slide them behind the corners of a few of the photos as photo corners. So there is one idea.
I'm really looking forward to seeing every one's ideas for using the scallop square punch!