Exciting news...we moved! We went to "just look" at houses and then a month later we were moving. I'm super excited to have a craft room all to myself but my entire craft room is still in boxes. I thought we would have it all unpacked by now but more important things keep coming up and setting up the craft room gets put on hold. I hope to be back posting regularly very soon. It's been such a long time since I've even seen my craft stuff. I have missed crafting and sharing with you. I have a running list of pages I want to scrapbook!
LOTS OF STAMPIN' UP! NEWS to share...
Stampin' Up! announced that they would be making changes to their color families beginning with the release on July 1 of the 2010-2011
Stampin' Up! Idea Book and Catalog
. I am so looking forward to the great new colors and the return of some of my favorite In Colors!
Unfortunately, we will have to say good-bye to 30 colors.
STAMPIN' UP! COLORS HEADED FOR RETIREMENT ON JULY 1:
Almost Amethyst, Apricot Appeal, Ballet Blue, Barely Banana, Blush Blossom, Bordering Blue, Brilliant Blue, Brocade Blue, Cameo Coral, Close to Cocoa, Creamy Caramel, Gable Green, Glorious Green, Going Gray, Green Galore, Handsome Hunter, Lavender Lace, Lovely Lilac, Mellow Moss, Only Orange, Orchid Opulence, Pale Plum, Pink Passion, Pixie Pink, Really Rust, Ruby Red, Sage Shadow, Summer Sun, Taken with Teal, YoYo Yellow
Color Families will be called Core Colors-
There will be 40 Stampin' Up! Core Colors in four color collections: Brights, Neutrals, Regals, and Subtles. Plus the In Colors.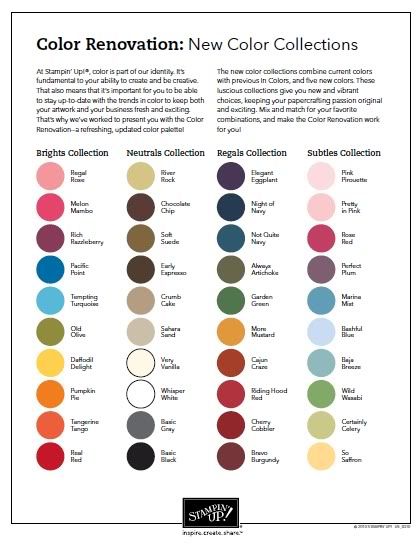 Introducing five new Core Colors: Daffodil Delight (wonderful yellow), Early Espresso (a really dark brown), Cajun Craze (deep orange), Cherry Cobbler (awesome red), Marina Mist (a great blue)
Brights Collection:
Regal Rose, Melon Mambo, Rich Razzleberry, Pacific Point, Tempting Turquoise, Old Olive, Daffodil Delight, Pumpkin Pie, Tangerine Tango, Real Red
Neutrals
Collection:
River Rock, Chocolate Chip, Soft Suede, Early Espresso, Crumb Cake (formerly Kraft), Sahara Sand, Very Vanilla, Whisper White, Basic Gray, Basic Black
Regals Collection:
Elegant Eggplant, Night of Navy, Not Quite Navy, Always Artichoke, Garden Green, More Mustard, Cajun Craze, Riding Hood Red, Cherry Cobbler, Bravo Burgundy
Subtles Collection:
Pink Pirouette, Pretty in Pink, Rose Red, Perfect Plum, Marina Mist, Bashful Blue, Baja Breeze, Wild Wasabi, Certainly Celery, So Saffron
2010-2011 IN COLORS:
5 new In Colors will be introduced with the Idea Book & Catalog July 1. The new In Colors will be available for 2 years! Starting next year, there will be a total of 10 In Colors with five rotating out and five rotating in every year. Make sense?
A NEW NAME FOR KRAFT:
Kraft card stock will be renamed Crumb Cake. Yummy! Starting July 1, Crumb Cake will be part of the Stampin' Up! Neutrals Color Collection--available in Classic Ink Pads, Ink Refills, Stampin' Write Markers, Watercolor Wonder Crayons and Stampin' Pastels.
CRAFT INK CHANGES:
Only Whisper White, Very Vanilla and Basic Black Craft Ink Pads will be continued from the Stampin' Up! Craft Ink line-up. Craft Stampin' Spots and Craft Stampin' Ink Refills will still be available in all of the core colors for embossing, coloring chipboard and scrapbooking.
KEEP WATCH
for details on new color kits, Stampin' Up! markers for all Core Colors (including former In Colors and the newest colors), expansion of colors for Stampin' Pastels and Watercolor Wonder Crayons and an awesome Color Coach tool that will make color selection better than ever!
I just wanted to take a minute to share all of the news. If you have any questions let me know. I'm happy to help.