I was having the hardest time coming up with an idea for a project for stamp club. I had played around with a few ideas but I just wasn't feelin' it. Then I saw Joani's Post-it note holder and thought it was a great idea for our stamp club project tonight. I like to make projects with my club ladies that we can use or give as a gift, not just a card every time. Wouldn't this be great on your desk or by the phone? I think I'm going to give this one to my son's teacher. It never hurts to kiss up, right?

Instead of making a little box to attach to the back, I pulled out my Big Shot, cut out two scallop envelopes, and made a little box, just like the tea holder box. The box was the exact size I needed and I didn't have to cut and score more pieces, plus it is way cute! Aren't the 3.5" pencils perfect tucked in there?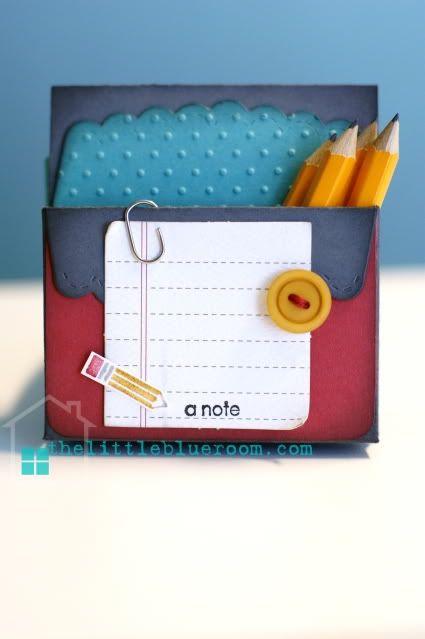 When I started making my example project I decided to use the color inspiration on ColourQ challenge #47. I really like the color combo and how it worked so well with my school theme. Once my project was all finished I searched the house, but Post-it notes were nowhere to be found. I was excited to find a package of Post-it's that seemed to be made for my project...a slightly lighter Bermuda Bay...at the store!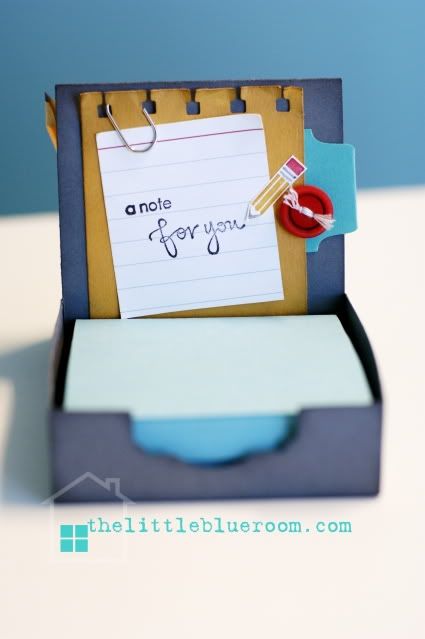 Thanks for visiting the little blue room.


I'd love to show you how to create these. Host a Stampin' Up! party and I'll come to your home and demonstrate for you and your friends how to make this or another creative project. Email Rachel to set up your next Stampin' Up! party.

You can also order the items you need to create this project shopping Stampin' Up! online. Remember to select Rachel Ricks as your Demonstrator and get the preferred price. You can also email Rachel and place your order and have everything shipped to your door.

Thanks!

Shopping List ~

Paper:

More Mustard cardstock

Bermuda Bay cardstock

Basic Gray cardstock

Ruby Red cardstock

Notebook paper pieces-Write Stuff kit (no longer available in catalog but is available as a digital kit so you can print what you need when you need it. Love that.)

Stamp:

For You - Great Friend

A Note - Sweet Little Sentiments (no longer available)

Pencil for Build-a-letter alpha set (no longer available)

Punches and Die Cuts:

Scallop Envelope die

Round Tab punch

Spiral Border punch

Designer Label punch

Accessories:

Clips Assortment

Designer Buttons