It has been a long time. Some of my followers and fans may not know that I live in the areas effected by the recent tornadoes on April 27th. My famlily and I were lucky, the tornado went past our house by about a mile. My husband and I watched it pass by from our upstairs window. Our area has so much damage. It is heartbreaking just to drive to the grocery store and pass the neighborhoods and buildings that are now just piles of debris. So, there has been lots going on to take me away from the little blue room for a while.
With this month coming to an end I needed to have our Stamp Club meeting. I sat down in the little blue room to come up with an idea for a project this month. I had heard of candy bouquets but, to be honest, it sounded a little cheesey to me. I know, I know, shame on me for judging. I'm glad that it was the only project coming to mind. I had just ordered the Blossom Party original die for my big shot and this project gave me an excuse to break it in.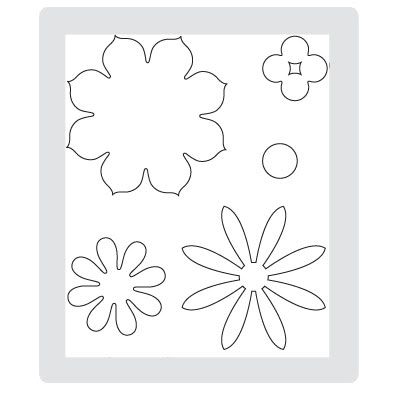 My original thought was to use Dum-Dum suckers because they are smaller, but I could not find them anywhere. Finally I found mini suckers and they are just the right size. I was planning on just making sucker blooms, then Pixy Stix came to mind as taller stemmed flowers. So, I jumped in the car and went to the store just for Pixy Stix! I'm crazy like that.
When I started making the blooms I only used two layers of flowers and it was looking very flat...and cheesey, oh no! So, I cut more and crunched and crinkled and layered and I started loving it.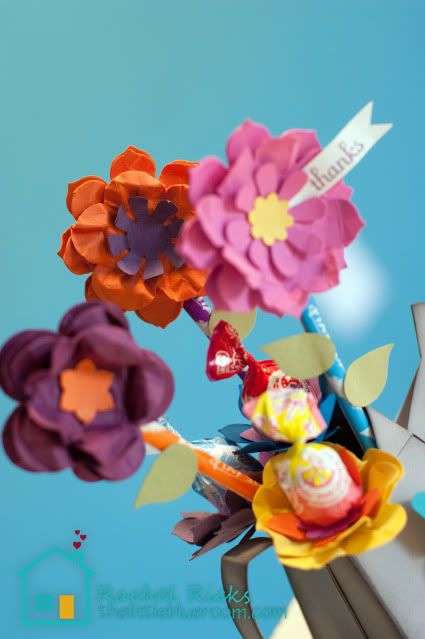 Then I needed something to put the bouquet in and remembered using this
watering can template from Splitcoast Stampers
a while back. Perfect. What a sweet little gift for birthday, thank you, or any time!
I'm so glad I gave this idea a try because I love how it turned out! Looking forward to sharing it with my Stamp Club ladies tomorrow night.
Hope you are having a great day, even if it is a Monday. Thanks for stopping by the little blue room!