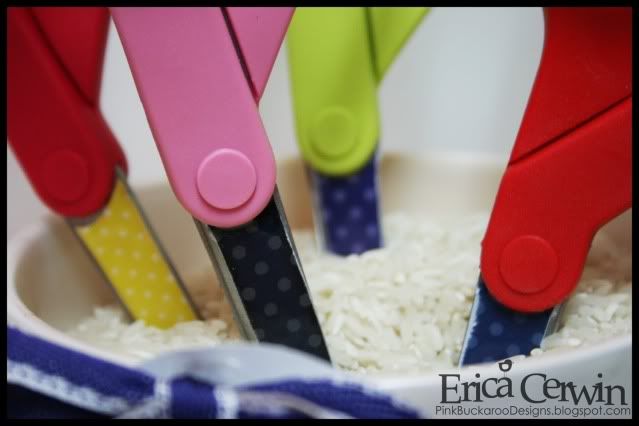 She shared this idea as a teacher appreciation idea. I thought it would be fun to decorate your crafting scissors or coupon cutting scissors, too.
My stamp club ladies loved the idea because the project was so quick and easy with an awesome result. Personally decorated scissors. Too cool! I now want to do this to every pair of scissors I see!
All you have to do is
cut a piece of patterned paper to fit over the blade
glue to the blade using Crystal Effects
sand around the edges to give it a nice finished look
cover with a layer of Crystal Effects
let dry
I made my set to match the little blue room.
The pens are even easier to make.
unscrew the end of an RSVP pen
cut a piece of patterned paper long enough to fit inside the casing and wide enough to wrap around the ink tube inside
roll the patterned paper into a tube and slide it into the pen casing
screw the end back on
Here's a coupon clipping kit I put together real quick. Seriously, it took like 5 minutes to make. It takes the Crystal Effects longer to dry than it takes to put the kit together. I used the same process used to cover the scissors on the circle latch that the elastic wraps around to add a little flair to the coupon holder and to make it all matchy-matchy.
The scissors are just the right size to slide into the holder so I can always find my scissors when I'm ready to start clipping.
I mentioned in my last post that the real life little blue room is getting a makeover soon. I've been searching the web for great room layout ideas and clever storage ideas. If you've found something that works for you or you hope to implement into your craft room someday please add the link. I'd appreciate more inspiration as I plan out the new and improved little blue room. You can leave a link below. Thanks!