This week the Scrap Idol challenge was to create a layout without any true squared corners. We were allowed to simply use a corner rounder to rid ourselves of those pesky points. Thank goodness! That made it a little easier. Of course, I totally over thought it and worked on this layout for 2 days straight. Mostly just starring at the layout. It still doesn't feel done but I'm putting an end to the madness and calling it good, well decent anyway.
I saw a wall hanging from Hallmark with The "real" to do list and knew I had to use it as a title on a layout someday. When my friend, Trudy, let me borrow her to do list stamp I knew right away how I wanted to use it. Thanks, girl!
In April, Stampin' Up! will be offering Window Sheets which is 12x12 acrylic sheets! So cool! You can do SO many fun things with window sheets. I was really excited to try my hand at making a layout using an acrylic background. It turned out to be a little tougher than I thought. I like to fill every nook and cranny with paper or an embellishment but I wanted the acrylic to show or what was the point, right. So here's how it turned out...
Not sure I love it yet but I do like how having a clear background makes all of the other fun edges pop. Of course, I wanted to stitch on it but never really found the perfect spot. My husband says not every layout needs stitching. Silly man.
Paper...
I mostly used paper from the
Sweet Slumber speciality paper pack (114037
). This new specialty paper is thicker than cardstock! I had fun crinkling and sanding the red paper.
I also used a scrap peice of designer paper from the
Good Morning Sunshine pack (113966
).
Die Cuts with the Big Shot...
Umm...yeah...I used the
Top Note die (113463).
It's just so perfect on any project! I'll try NOT to use it on my next layout, lol. That would be a tough challenge for me.
Punches...
Lots of punches!
I used a
corner rounder (109047)
on every corner!
I used the
Slit punch (104388
) to create the large scallops.
I used the
Scallop Edge punch (112091)
on the white cardstock.
To create the funky edge on the striped paper I used the
Curly Label punch (112966
) side by side.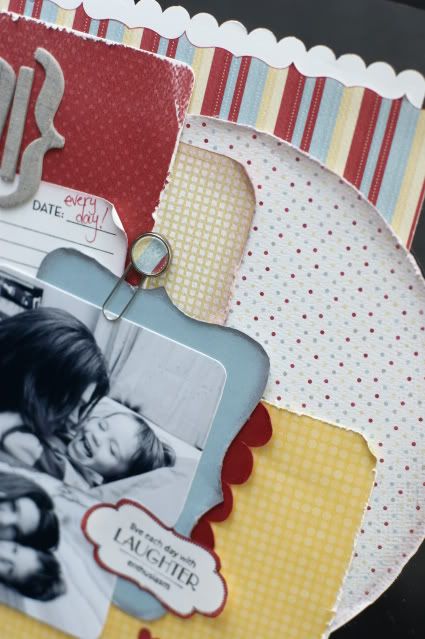 On the word 'my' I used the
Word Window punch (105090
) so there were no squared edges, even on my little strip.
I used the
Spiral punch (108341
) on the To Do List. I checked the little square holes on the punch and they have rounded corners! Wouldn't want to get disqualified.
Poking off the edge I used the
Round Tab punch (108340)
to make a file tab. I cut off the round part and used an old SU! rub-on for the "to do."
I punched a couple of hearts using the
Heart to Heart punch (113694
).
For the Build-a-brad paper clip I used the
1/2 inch circle punch (104390)
for the center.
Chipboard...
I used letters from the
Loads of Letters set (112084
). You really do get a load of letters in a variety of fonts plus lots of cute flowers, hearts, and other stuff so one package goes a long way.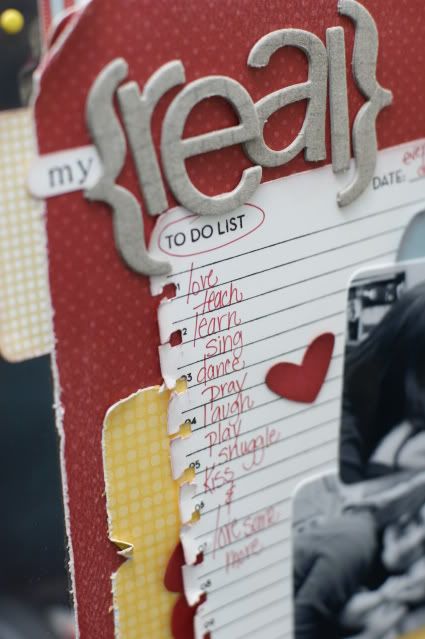 Stamps...
It's a Plan stamp (111658
) is HUGE and double sided. You get a to do list and a calendar all in one. Awesome!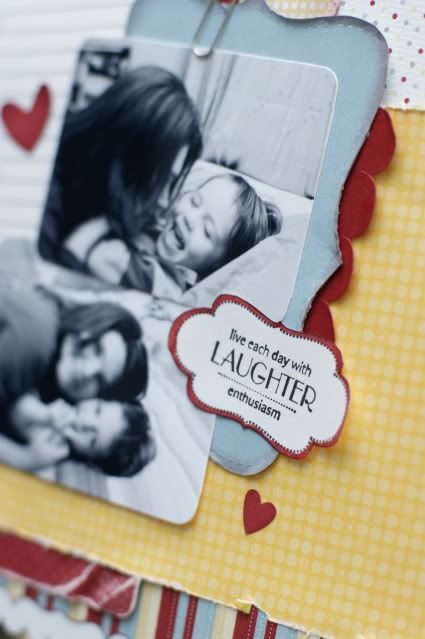 The quote is from the
Sweet Serendipity set (113626
). Great set.
I framed the quote with a stamp from
Frames with a Flourish (113496
). I seriously use this set all of the time!
Embellishments...
I made my own paper clip embellie again. So easy and matches perfectly to my projects! I used the
Build-a-brad kit (109128
) then attach the brad to a regular ol' paper clip. Easy peasy.
I am totally loving the
Corduroy Button and Brad set (114343
)! The texture is so cool.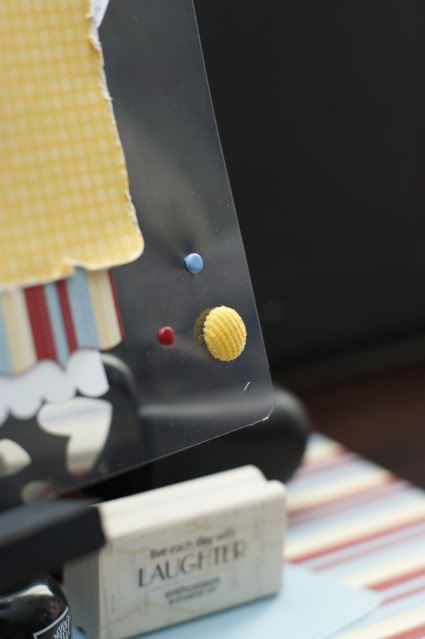 Non-Stampin' Up!...
Brads are just brads I've collected over the years.
The letters for "my" are from G Studios.
Competition is getting tougher as the weeks go on. I'll find out if I get booted on Tuesday!
Just a reminder...
Sale-a-bration ends on the 31st! Get your orders in before then to earn your free stamps, paper, or ribbon! The items in the Sale-a-bration catalog are never offered again so get them while you can. I can take orders over the phone, through email, or you can shop at my online store 24/7!
Click here to visit my online store or for my contact info
.
Hope you have a fun filled weekend!