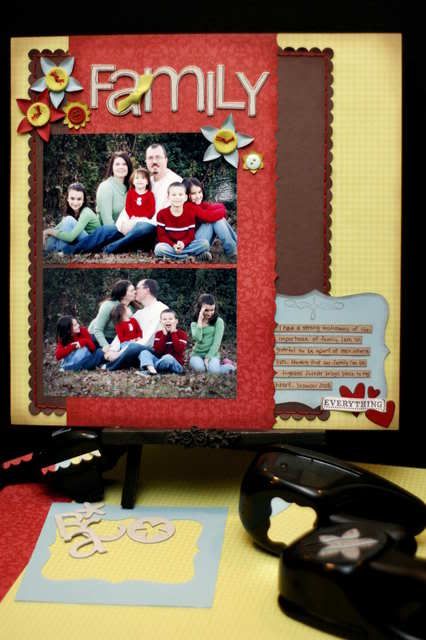 A group of online friends are holding a Scrap Idol. For 6 weeks the participants are given a challenge each week. We then have 5 days to complete and post a layout created following the requirements of that week's challenge.
This week we had to:
1) Use at least 2 pictures, but no more than 3
2) Use at least 2 different pattern papers
3) Use at least 1 piece of cardstock
4) You must use ribbon
5) Use at lest 5 buttons
6) You must use ink on your layout
Nothing too crazy this week. Wish me luck. Three people will be voted off Tuesday!
Paper and Cardstock...
I used a few the "In Colors" on this layout -
Riding Hood Red, Baja Breeze, Kiwi Kiss
.
The Kiwi Kiss paper is from
Urban Oasis Designer Series Paper pack
.
The Riding Hood Red paper is from
Bella Rose Designer Series Paper pack
.
Punches...
I think it is becoming obvious that I LOVE punches!
I used the
Scallop Edge punch
around the Chocolate Chip cardstock. It was tricky to get the corners all matched up but after a little trial and error it worked out. Thank goodness parts were covered though, lol.
To create a funky edge on the Riding Hood Red paper I used the
Curly Label punch
.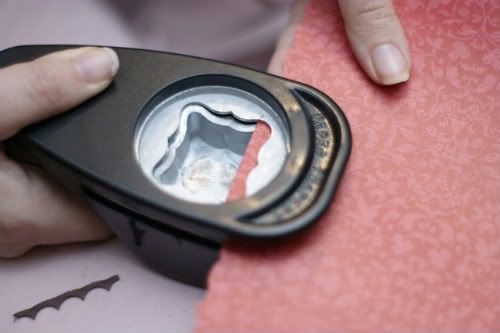 I simply punched each punch side-by-side. Fun, huh?
At the very bottom right corner I have a bunch of the little hearts punched using the
Heart to Heart punch
.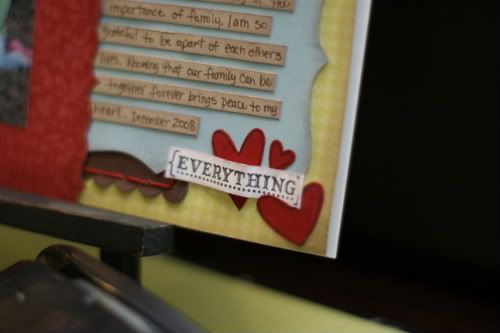 I really love how it punches a variety of sizes and shapes at once. Perfect for using in a collage!
I used two different punches for the flowers. The large flower is the
Five Petal Flower punch
. To give these flowers more punch (LOL) I pinched the points of the petals together.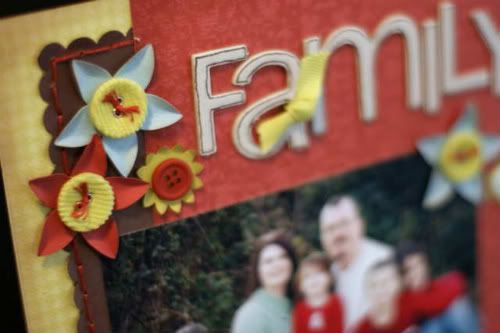 The smaller flowers are punched using the
Boho Blossoms punch
. This punch creates 3 small blossoms at once!
Chipboard...
I used the
On Board Loads of Letters
set for my title. Then I used my Chocolate Chip Stampin' Write marker to trace around the edges and tied a scrap of ribbon to the 'a' to finish it off.
Awesome Accesories...
I feel in love the these corduroy buttons the first time I saw them in the catalog. These are in Kiwi Kiss. You receive 24 buttons per container; 8 each of the following: 3/4" circle with holes, 3/4" circle with prong attachment, 1/2" circle with prong attachment. That gives you plenty to play with!
Die Cuts...
Of course, I used the
Top Note Die
! Love it. I thought it worked perfectly as a journaling spot.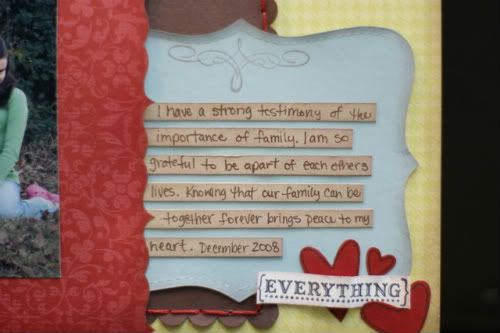 Stamps...
I used the little swirly stamp from the
Frames with a Flourish set
. It fit wonderfully in the point of the Top Note die cut.
I also used the "everything" from the
Always set
.
Thanks for visiting!
I'll be posting a sneak peek of the Occasions Mini Catalog tomorrow. It will be worth checking out. Stampin' Up is allowing costumers to oder certain Easter sets a full month early! The Occasions Mini catalog doesn't actually come out until April. Be sure to come back and take a look.