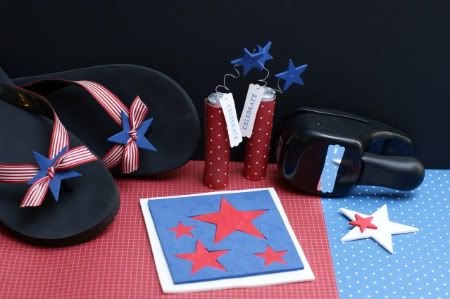 These are the fun projects we made at our Stamp Club meeting this month.
I used the Big Shot and Stars #2 die (113461) to cut through foam to create these fun patriotic projects.
We altered a pair of flip flops to wear on the Fourth of July. It looks even better on white flip flops but they didn't have white in my size.
We decorated a roll of Lifesavers to make the cute firecrackers. We used a new punch you'll be able to purchase July 1st, the Modern Label punch (11630)for the tag.
Using the scraps we made a foam puzzle. My 3 year old inspired this one. She was playing with my scraps as I was working on the other projects and said, "Mom, it's like a puzzle!"
Slide this into a Ziplock bag and slip it into your purse for those times your kids need something to keep them busy. You could even stamp a design or words across the front to create a more difficult puzzle. These could make cute and inexpensive party favors for birthdays or family reunions.