I usually don't make many cards but the stair step cards really caught my eye. I love the layers.
Stair Step Card
1) Cut your cardstock to the size of 10.5 X 5.0 If you plan to stamp your background, now would be the time to do it. I did not stamp on this one.
2) Score your cardstock at 1.25" - 2.5" - 4.25", 6" and at 8.25"
3) Fold accordion style making sure that the smallest (1.25" fold) is folded down, as this will be the front of your card.
4) Now here's the fun part...DECORATE... use punches, die cuts, stickers...whatever, just have fun with it!
Since this is my first one I kept the decorating simple.
I made the back panel taller than the last panel usually is and attached it to create a background scene. It isn't necessary but I liked it on this.
I used Kraft cardstock as the road.
I used the Loads of Love stamp set(item #115033) for the truck and filled the back with a load of hearts.
I also used the Heart to Heart punch(item #133694) which is on sale this week for only $10.99 instead of $15.95. What a great deal!
Here I used the smallest hearts and attached them with a drop of Crystal Effects(item #101055) to the wire.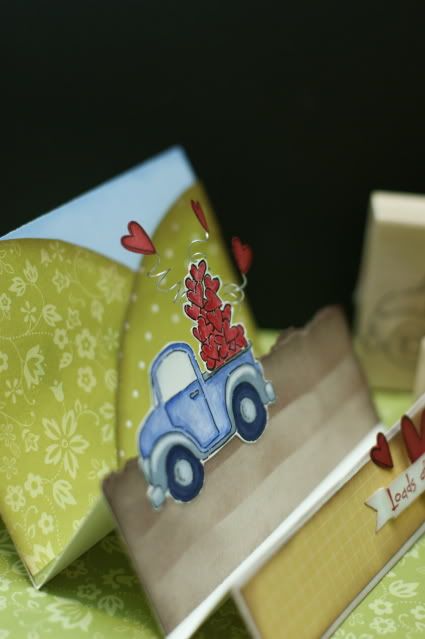 I also used the largest heart and a tiny heart around the sentiment.
This was easy and fun to create. I look forwad to making more scenes with other stamps sets and themes. This would even make a cute photo card adding the photo to the last panel.
I hope you enjoyed the make and take today. If you have any questions let me know, I'm happy to help. I promise to be better and actually get these posted earlier in the day on Mondays. Our kids start back to school in 2 weeks so after they start back I should have more time to get things posted.
I'd love to see your stair step cards. To share them with us include a link to a photo of your card in the comments.
I hope everyone has a wonderful week.
Oops, just realized I didn't take a photo of the card folded together. I'll have to take a photo tomorrow and share it with you. :)