It's already Monday again and time for Monday Make and Take! Have I got some eye candy for you...literally! LOL.

This make and take was postponed due to my little goblin and ghouls gobbling up the goodies while mummy was away.

I've been searching the world wide web for fun Halloween ideas and found these candies. Once I found these I knew I wanted to create a jar of eyeballs to go along with my spell book and other potions set out for Halloween. I found this jar at the local craft store. I collected some eyeballs, filled my jar, and created an eyeball label. My little goblin and ghouls LOVE them and they taste really good, too.

To make the eye candy you will need:

-Lindt White chocolate truffles

-Cookie icing (because it hardens)in the eye color of your choice

-Chocolate cookie icing for the pupil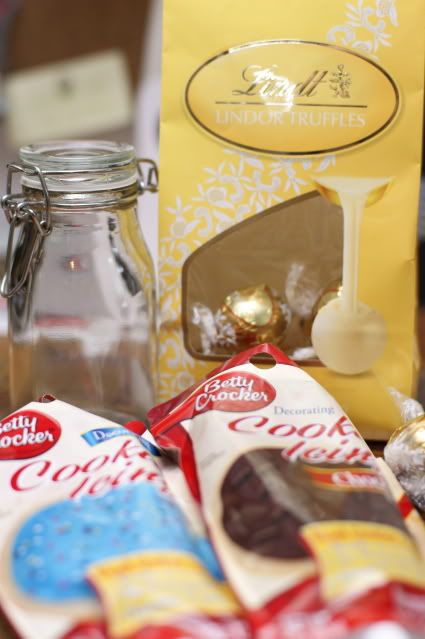 Create a circle in the eye color icing then fill it with the chocolate icing. Let the icing set for 4 hours (or what is instructed on your icing package) before placing in the container.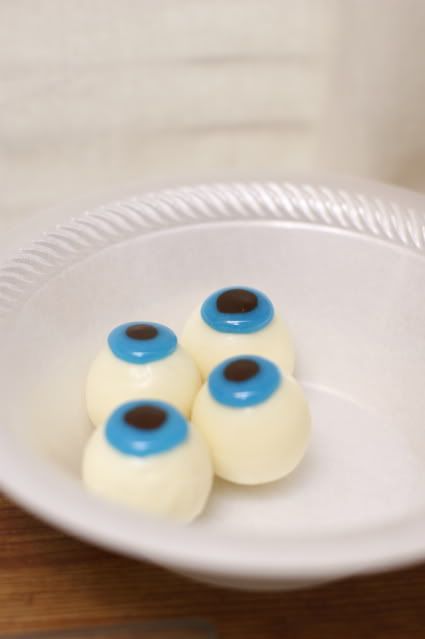 Tip: I scrunched up the wrapper to lay the truffle in while I decorated it and let the icing set so it didn't roll every where. Eyeballs can be slippery little guys.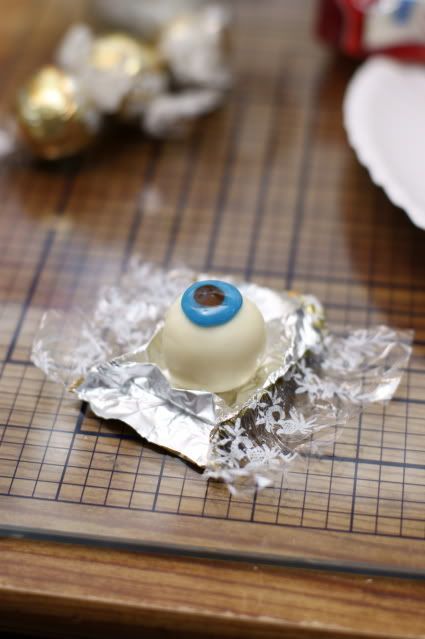 There you go. Super easy but so cool.

To create the label you will need:

1 1/4" circle punch

1" circle punch

1/2" circle punch

Basic Black and Whisper White cardstock

Cardstock in the eye color of your choice

Black ink and sponge

White Uni-ball Signo Gel Pen

Adhesive

Step one:

Punch a 1 1/4" circle in Whisper White cardstock.

Punch a 1" circle in the eye color cardstock.

Punch a 1/2" circle in Basic Black cardstock.

Step two:

Ink the edges of the eye color circle with black ink and sponge.

Step three:

Adhere the eye color circle on top of the white circle.

Adhere the black circle into the center of the eye color circle.

Step four:

Add a catch light to the black circle with the white gel pen.

Step five:

Attach your eyeball to your project.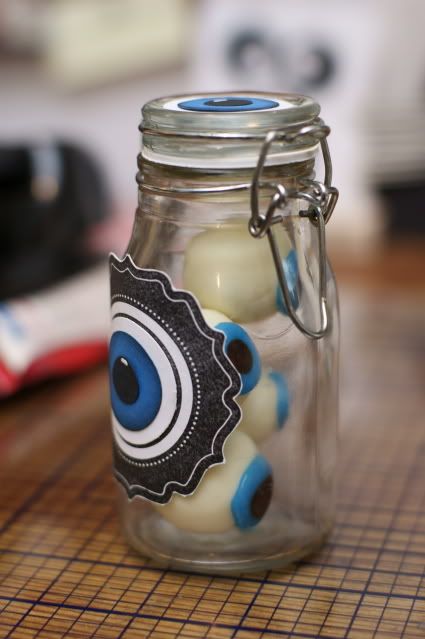 I centered one eyeball onto the stamped image from the stamp set Gallery. The eyeball was just the right size to for the center! I also attached one to the the top of the jar because it was a perfect fit.

I hope you enjoyed the make and take. I plan to have more Halloween goodies and packaging ideas soon. If I can keep little goblin and ghoul fingers out of the goodies, that is.

Have a lovely Monday.