My valentine themed Cute Carrier is packaged up and ready to give!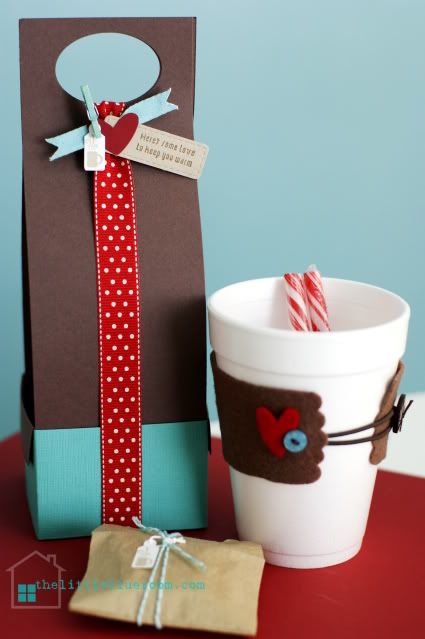 I used a stamp set from the Stampin' Up! 2009 winter mini catalog, Cold & Cuddly, for the sentiment and the cute little mug tag. The mug stamp fits perfectly in the Jewelry Tag punch.
I cut the little sack in the Big Shot with the Scallop Envelope die using a brown lunch bag. Then I tied it up using my homemade baker's twine.
In the bag is a different kind of hot chocolate gift. No powder here, it's a Hershey's chocolate bar broken into squares along with Andes peppermint chips. Just add hot milk, stir until melted, and enjoy a
very tasty
cup of hot chocolate!
The cup cozy I made this time is a little different than the first one. The elastic loop on this one is simply hand sewn, so no sewing machine is necessary, but you still have a loop to allow reuse on any size cup and mug. I think this cup cozy will be the one I teach my Stamp Club ladies how to make.
I am working on the tutorial to make this Cute Carrier but I want to share it with my Stamp Club ladies first. So check back at the end of the month for the easy step by step and create your own Cute Carrier.
Also, I wanted to share that I was crowned over on
ColourQ
for my original
Cute Carrier
! You should head over and check out the
ColourQ challenge this week
.
Thanks for stopping by the little blue room today!