This week for scrap idol we had to use a sketch from
pencil lines sketch blog
. Plus use 2 of these techniques-stitching, distressing, stamping, paper piecing, painting, or paper tearing. I stamped (of course), distressed, and hand stitched, as usual.
My week was super busy so I didn't even get started on my layout until about 9 pm Saturday night and the pages are due by Sunday at midnight. If you know how long it takes me to scrap a page then you know this was tough for me.
Here's the result...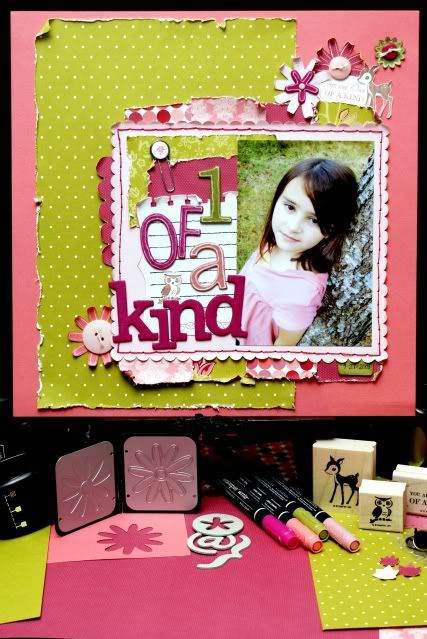 Cardstock and Designer Series Paper:
I used some scraps from the
Pink Flamingo paper pack (113976)
.
I also used the
Raspberry Tart paper pack (113975).
Love those pinks and greens!
The Kiwi Kiss with the white dots and the flower pattern are from the
Kiwi Kiss Pattern designer series paper pack (112161).
I used
Kiwi Kiss
,
Cameo Coral
, and
Pink Pirouette
cardstock to coordinate with the designer series paper.
Die Cuts from the Big Shot:
Yep, you guessed it, I used the
Top Note die (113463).
It's awesome! Did you notice it hidden under the title?
I also used a different flower this time. I used the
Flower Embosslits die (114528)
to create my large flowers on this layout. The embosslits are really neat. They cut and emboss at the same time!
Punches:
To create my little green flower I used the
Boho Blossoms punch (110711).
I used the
Scallop Edge punch (112091)
to edge the Pink Pirouette cardstock.
I used the
Slit punch (104388)
to make the scallop edge on the Rose Red strip poking out on the left side.
TIP: Punch the Slit punch side by side to create a scallop edge.
To make my Top Note shape look like it was torn out of a notebook I used the
Spiral punch (108341)
and the roughed it up a bit.
TIP: To make the Spiral punch edge look torn from a book simply stick your scissors in the square wholes and pull out through the slits a few times.
I wrote the date on a tab punched with the
Round Tab punch (108340).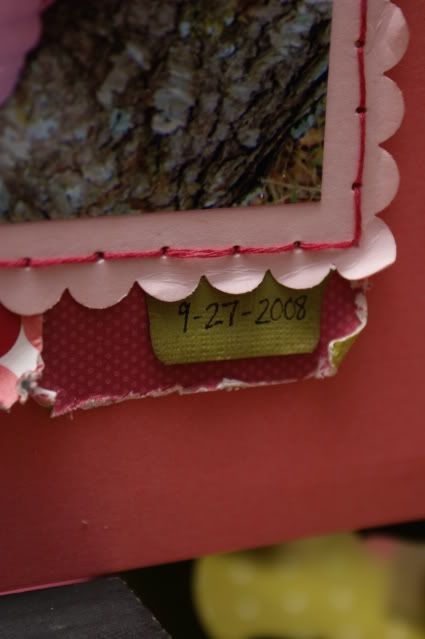 Chipboard:
I used a variety of On Board chipboard letters all from the
Loads of Letters set (112084).
It really does come with loads of letters. With 3 sheets of chipboard, each with a different design and font, including multiple letters, you get plenty to use to create great titles on your layouts and projects. The chipboard flower center used in the top right corner also came from Loads of Letters chipboard set.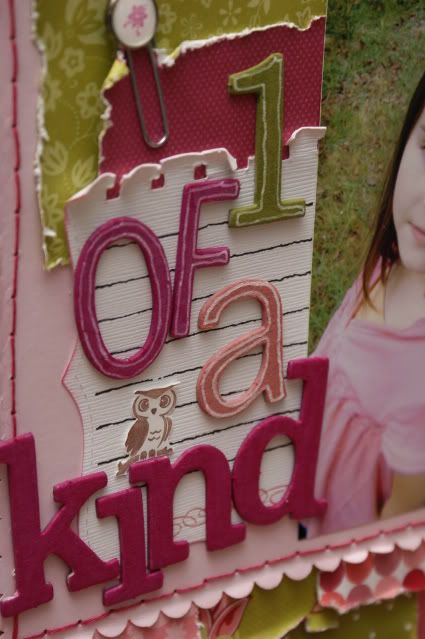 The number 1 came from
On Board Timeless Type set (112083)
which is the only chipboard set from Stampin' Up! with numbers.
TIP: To color the chipboard I simlpy colored over them a couple of times with my
Stampin' Write Markers (105541)
in colors to match. Love my markers!
Stamps:
"You are One of a Kind" stamp at the top right is from
One of a Kind (113624).
At the bottom of the Top Note die cut I used the swirly stamp from
Frames with a Flourish (113496).
This set is so versitle I use it almost every page.
I also used an oldie but a goodie. I used the old journaling block stamp on the Top Note die cut.
You get a sneak peek!
The adorable deer and owl used on my layout will be available to order April 1st.
No fooling!
This set is so sweet. The cutest little woodland critters I've seen in a long time. In this set you get a tree, bunny, deer, and owl. At only $14.95 you have got to add it to your wishlist! You can find this set and lots of other fun new products in the new Mini Catalog coming out April 1st!
Embellishments:
I made my own paper clip embellishment! I used the
Build-a-brad kit (109108)
and then attached the brad to a regular paper clip. Ta da! Cool, huh?
Non-stampin' Up:
The buttons are from Wal-Mart.
Embroidery floss probably from Wal-Mart. I've had it in my stash since my 12 yo was a baby!
I'm nervous about being voted out this week. The other ladies really rocked this sketch and their pages look great. Wish me luck! I find out Tuesday if it's my turn to go.
Don't foget to send your orders in before the end of the month if you want to earn free Sal-a-bration goodies. The month will be over before you know it and the items in the Sal-a-bration catalog will never be offered again!