I didn't realize it had been so long since I've shared on here until I received an email from a sweet lady letting me know how much she enjoys my blog and she closed the email with "let me know if you decide to continue your blog." I was like, what? I'm still blogging! Then I went to my blog and noticed I had not blogged in more than two months. Wow...time really does fly! Thank you, Keren, for your email and I'm so glad you found my blog and took the time to send me an email. You can visit Keren's blog with wonderful Stampin' Up ideas here >
Stampin' Journey of an Everyday Crafter.
We've been busy with lots of summer fun these past two months. We went the pool ALOT. I helped with a craft at Cub Scout Day Camp. I was able to go to our church girls youth camp for a week. I made my youngest daughter a bandana stars and stripes top using some of my favorite striped ribbon from Stampin' Up.
Oh, and these hair things too. I used the Big Shot to cut the blue and white stars out of foam. Then, punched a hole in the center with the Crop-a-dile. To finish it off I tied the stars to the braids with the striped ribbon.
Last summer I was inspired by these memory jars. I added them to my ever growing to-do list but, never got around to making any. Don't you love those vinyl words on the jars?
These are from Martha Stewart.
When I saw this project on
Erica's blog
it was the kick in the pants I needed to go try making my own.
So, this was our Stamp Club creation in June.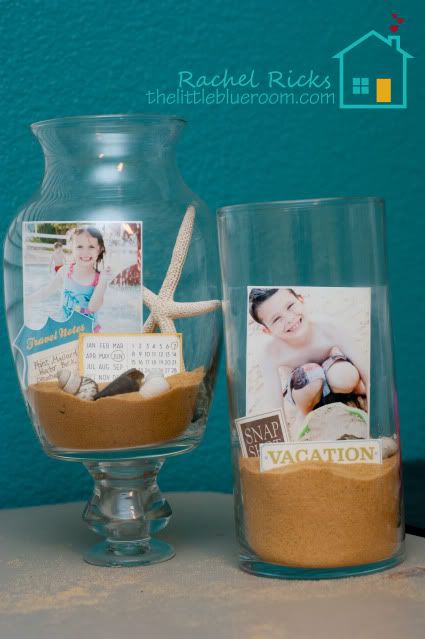 I used a Stampin' Up digital kit to print out the embellishments we used in our project.
Just $9.95.
With digital you can print as many as you need and in any size you want, over and over again! So, I decided on the size I wanted for this project and printed them out on Whisper White Cardstock. Then, we simply cut out the embellishments and added them to our memory jars.
This is a collection of photo jars
Amy made to display at her photography studio
. I love how they turned out and how they demonstrate using different themes, not just beach.
Stamp Club for July is tomorrow night! I hope to post our club creation soon.
Well, there you go, a little catchin' up on the blog. Things will probably be slow for another month or so as the real life little blue room is being rearranged and redecorated in August. I am SO excited! I've been sketching ideas and measuring things and hanging out on pinterest.com gathering lots of inspiration. Thanks for being patient with me. I should be back to sharing on a regular basis after school starts.
I hope you are all having a wonderful summer!